Whether you're flying cross-country or spanning ten time zones, here are 10 ways you can tame jet lag.  Don't  lose precious vacation time because your internal clock is begging you to simply lay down and sleep. After all, there are sites to see, experiences to dive into…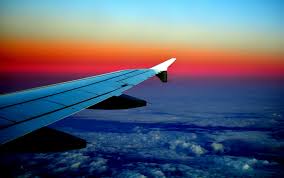 1. Rest Assured
To deal with jet lag, pre-emptive strikes are often the most potent. Getting a good night's sleep before the trip will dramatically help your body maintain its energy levels while traveling.
Also de-stress, exercise, and get your affairs in order before flying. Two days or more before, enter key contact numbers from your vouchers for transfers, accommodations, reservations into your phone contact list, mobile itinerary or travel notes so that they are easy to pull up on site.
2. Synchronize from the Start
Jet lag rule of thumb Number 1: For each time zone you cross, it can take your body up to one day to adjust to the local time.
The cure?
Set your watch to your destination time when you board the plane and act as if you're already in that time zone. If it's night there, try to sleep. If it's day, do your best to stay awake.
Sleep experts also recommend rising and going to bed earlier several days prior to a trip heading east and later when traveling west. To deal with jet lag, you can also shift meal times to sync with dining hours in your future destination.
3. Fly Well to Deal with Jet Lag
For any long-distance flight, comfort is key. The more R&R you get in flight, the better you'll deal with jet lag. Flying business, first class, or economy plus with added legroom will help you rest and be ready for your travels, especially for longer trips.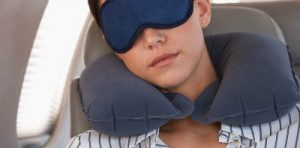 Remember, too, that sleep aids such as eye masks, earplugs, neck pillows, and noise-reducing headphones are your friends. Need more help? Consult your doctor about a light drowsy medication for an overnight flight.
My personal solution is a homeopathic remedy from my natural food store which are tablets to be taken at regular intervals just before boarding until landing.
4. Break up Your Itinerary
If it's feasible, plan an overnight stopover en route to your ultimate destination. If you're heading to Hawaii, for example, an overnight stay in San Francisco can significantly lessen your jet lag. When traveling with family, layovers are a relief for kids and break up the strain.
Many airlines offer at no extra charge or very reasonably priced stopovers (connections of more than 24 hours between flights) in their hub city. For example, on your journey from North America to Europe, Icelandair offers up to 7 day stopovers.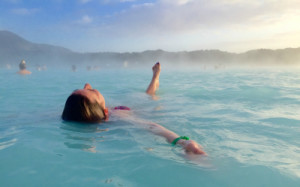 The Blue Lagoon, Iceland
Imagine this stop in Iceland – in 24 hours you can take a wellness soak in the milky waters of the Blue Lagoon, then plunge your feet into the Grótta footbath with a breath-taking view over the Faxafloi bay and neighboring mountains. When your feet are refreshed, go for a cocktail and a lovely meal at Slippbarinn, the bar at Icelandair Hotel Reykjavík Marina. Before you head to the airport again, make a stop at Sóley Natura Spa for a relaxing massage before your flight.
5. Just Say No
You may love your coffee after dinner. Or your glass of wine with dinner to take the edge off flying. But for 12 hours before, as well as during, your flight, stay away from caffeine and alcohol. Both dehydrate you, which makes jet lag worse.
Instead drink lots of water to deal with jet lag. Experts recommend at least eight ounces for every hour in flight. Other tips for staying hydrated? Carry on moisturizing lotion, lip balm, and a hydrating spray with essential oils. In TSA-approved sizes, of course.
6. Quit Kidding Around
For younger children, bring pyjamas on every overnight flight. Not only will it help get kids into sleep mode, but it also helps them feel fresh when they wake and change clothes.
When it's time for bed, collect their iPads and shut off the personal TVs. And on shorter overnight flights, don't even look at the movie list. Go right to sleep!
7. Stick Your Landing
For daytime arrivals, stay active and, at all costs, wait until night time to sleep. Be sure to spend time in the sunlight as well. This will help you deal with jet lag by adjusting your internal clock to your new surroundings. If you land in the morning, schedule a private car and driver so you can sightsee at your own pace.
For travel professionals or group leaders, I recommend organizing a private city tour either on your way in from the airport or shortly after check-in. Preferably one which includes a few photos stops to keep travelers active and engaged. Once at the hotel, encourage travelers to explore their immediate neighborhood – notice where the nearest pharmacy is, convenience store or cute café. Then plan for an early group dinner.
One note: in your sleep-deprived state, you are the most vulnerable to pick-pockets. Take measures to keep your belongs close to your body and protected.
8. Hit the Spa
Massages and spa treatments – especially during (think airport massages) and at the beginning of your trip – are essential to deal with jet lag. Many hotels also offer special jet-lag-centric treatments that promote circulation, detoxification, and relaxation.
9. Then Sleep on It
When it's time to sleep, sleep with abandon. Ask your Virtuoso travel advisor to book hotels that are committed to helping you catch some zzz's with features such as dawn simulator alarm clocks, lighting that resets wake-sleep cycles, and aromatherapy diffusers.
10. Stay Strong
There's no sure-fire way to deal with jet lag. But taking the above steps should help lessen its effects. If all else fails, however, think mind over matter. Will yourself awake and remember: This may be the last time you're in your dream destination. There will be plenty of time to sleep during your return flight home.