The Black History in Paris resources provided below are provided by travel expert Julia Browne of Walking The Spirit Tours, offering travel services for Black Paris & Beyond vacations and tours. Julia lived for many years in Paris and discovered many jazz musicians, entertainers, writers and artists who had found personal and professional fulfillment in Paris, especially Black Paris. For her, France became a place where her  'ancestors' shared an ongoing, rich cultural exchange with the French. Julia finally understood why the welcome mat stays out to this day and wants you to explore the same.
Black History in Paris – DVD "When African American Came To Paris"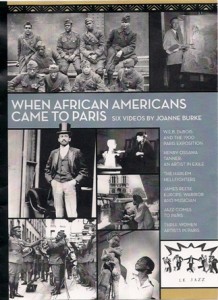 A groundbreaking documentary series that showcases pioneering African Americans and their remarkable achievements in Paris in the early 20th century. The Black history in Paris series includes compelling videos that blend rare archival images and film, thoughtful commentary by experts, and exceptional storytelling.
Part 1: Featured are WEB Dubois, Henry O. Tanner, The Harlem Hellfighters, Lt. James Reese Europe, Jazz in Paris After WWI, and Three Women Artists: Augusta Savage, Nancy Elizabeth Prophet and Lois Mailou Jones.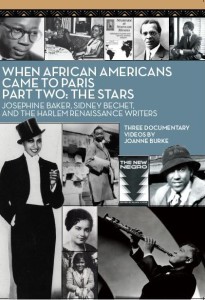 Part 2: Josephine Baker, Sidney Bechet, Langston Hughes, Claude McKay, Aime Césaire, Leopold Senghor, The Nardal Sisters, Rene Maran, Gwendolyn Bennett.
For more details about our Black History in Paris series, download one-sheet, order : http://www.africanamericansinparis.com
Each part of the Black History in Paris series is designed as a versatile educational tool easily accessible for the classroom or for general at home enjoyment.
Black History In Paris – Black Paris Walking And Bus Tours