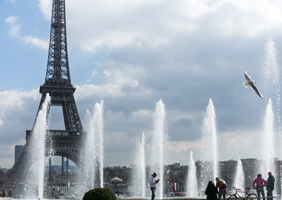 Walking The Spirit Tours is excited to offer you customizable Paris & Beyond vacation packages that I have designed based on my personal experiences and knowledge living in and traveling often to France and Europe.
* * *
Customized Paris Vacation Packages
Our customizable Paris vacation packages connect you easily to the spirit and history of Paris –  from a unique perspective of Black heritage and the traditional joys of France.
Come with us to explore little-known places and stories
that began in Paris, that most other travelers miss.
I curated these unique Paris vacation packages out of my personal experiences while living in France for 12 years and traveling throughout the country since 1983.
With each of these Paris vacation packages and excursions you
walk in the footsteps of inspiring Black creators, musicians and intellectuals and at the same time
immerse into authentic local experiences through food and wine, culture, historic sights, local festivities and traditions.
Request our customized Paris vacation packages as 1-day or several day add-ons from Paris.
Listen to the challenges faced by African-American intellectuals, artists,
military and musicians in early 20th century Paris and the stunning outcomes.
* * *
Josephine Baker in Paris & Chateau Vacation Package
Our Josephine Baker vacation package reveals a Josephine Baker in Black Paris and in her Chateau des Milandes you don't know.
On the most popular of our Paris & Beyond vacation packages, we take you
from her beginnings in Paris, the glamour and the growing activism right through to her funeral site.
Then, to really feel and know Josephine, we take you to her 'fairy-tale castle' in the south of France where you can relive what she loved, what she accomplished, and the legacy left in her village.
* * *
Paris Jazz Vacation Package
On our Paris Jazz Vacation Package, your expert guide introduces you to the two main neighborhoods, many historic music venues and restaurants to learn how and where has jazz has flourished in Paris since WWI.
Listen to the fascinating stories that begin in shadow of the Moulin Rouge Montmartre where the 1920s Black jazz community lived and worked, then
follow its rebirth in St. Germain-des-Pres/Latin Quarter by greats like Duke Ellington, Sidney Bechet, Miles Davis, Bud Powell, just to name a few.
End your discovery of the inspiration for Paris' ongoing love affair with jazz at one of the few remaining restaurants on a narrow street, once lined with jazz clubs and dinner clubs.
Expect a warm welcome, a delicious meal and an excellent jazz ensemble at this intimate venue run by a father-son team.
* * *
Day Trips From Paris
Escape the hustle and bustle of the city and explore the beautiful countryside, fine culinary traditions and world heritage sites on Day Trips from Paris.
In Normandy, discover Richard Wright's writing hideaway, the actual sites now immortalized in Impressionist paintings or spend an emotional excursion to the D-Day Beaches.
Just 2 hours south of Paris, find yourself sampling chilled white wines during an outdoor lunch in the Loire Valley on a backdrop of magnificent Renaissance castles.
To the west, learn the secrets of champagne making – in the cellars, in the fields, and in the sampling rooms of world famous Moet et Chandon-Dom Perignon, Taittinger and Veuve Cliquot and smaller producers.
* * *
Jazz On The Riviera Vacation Package
Our Jazz Riviera vacation package offers two exciting options.
The first runs year-round and introduces you to the glamorous French Riviera – home to jazz favorite son Sidney Bechet, James Baldwin, Josephine Baker, and Tina Turner.
The second Jazz Riviera package is for jazz lovers to enjoy full VIP access to top name concerts and events at the Jazz Festivals at Antibes/Juan les Pins or Nice in July.
* * *
Harlem Hellfighters in WWI Vacation Package
Our Harlem Hellfighters in WWI vacation package takes you
back to the Western Front in France where the segregated Harlem Hellfighters fought alongside the French and won many medals of bravery.
Come pay tribute to these exceptional soldiers.
On the second day, visit the region they fought and died in – the nearby Champagne region.
Combine this package with our Paris Jazz Vacation to follow their footsteps as they introduced jazz to adoring audiences in Paris
* * *
D-Day Beaches Normandy in WWII Vacation Package
Our D-Day Beaches and Normandy vacation package celebrate the actions and sacrifices of the American and Allied Forces on the D-Day Normandy Beaches.  Visit the uplifting exhibits, the remnants on the beaches, and learn with an expert guide the inside stories of the soldiers, the contributions of the African American troops both in battle and in the surrounding villages.
* * *
Paris & London
Our Paris and London vacation package gives you a delicious taste of two great cities – Paris & London. Begin in London with the pomp and pageantry defined by British world famous sites and don't miss your afternoon tea. Our driver-guide will take you on a full day or more excursion through well-known and lesser-known corners. Add to that, the rich but little-known Black history.  Take the quick trip to Paris by Eurostar and enjoy all the delights of Paris – shopping, river cruises, concerts, wine-tasting and what ever your heart desires.
This customized package can be a same day return from Paris or a 3-night London/3 night Paris package including accommodations and flight.
* * *
Black History London
Our Black History London vacation package takes you on  a surprising discovery of Black History London. Choose from two circuits that walk through St. Paul's and Notting Hill, led by resident expert guides.  Add this package on during the October Black History Month and we will customize to include exciting activities organized within the London Black community.
* * *
Discover Nova Scotia Black History
Our Discover Nova Scotia Black History vacation package will amaze you with the depth of Black heritage in this Canadian Atlantic province. On this journey, you follow the trail of the first Black known in the province to the large settlement of Black Loyalists originating from eastern U.S.  See the lovingly restored memorials and sites depicting the dangerous existence of the early settlers, visit the new cultural centers and the vibrant Black community there today.
* * *
Interested in a free travel consultation to choose the best trip from all of our Paris vacation packages? Fill out our form and let's get acquainted.