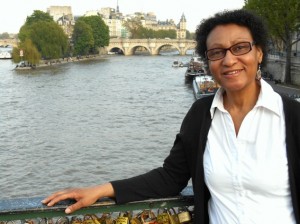 Wanderlust has long guided my professional and personal direction. I was born in England, brought up in Canada, but had a 'thing' for all things French since my teens.
A career in travel naturally appealed to interest in people's lives elsewhere. Working as a flight attendant, though, I was never sure, as a Black woman, how 'friendly' a town was going to be. From my first trips to Paris right through my first four years as a resident, I was constantly surprised at how little my being Black seemed to register. In fact, I felt oddly anonymous.
Married to a Frenchman and raising two daughters in Paris, my biggest concerns focused on dashing for the metro, finding work and bringing home the right cheese, like every expat I knew. And then, taking a course at the Sorbonne University changed everything.
Through the late Professor Michel Fabre I discovered the jazz musicians, entertainers, writers and artists who had found personal and professional fulfillment in Paris. Suddenly France became a place where my 'ancestors' shared an ongoing, rich cultural exchange with the French. I finally understood why the welcome mat stays out to this day.
My entire perspective on my existence in Paris shifted. I had finally found my personal connection, a sense of historical pride living in this foreign, iconic city, just as the expatriates had.
As a researcher by nature, a writer, filmmaker and broadcaster by training, I just had to share this knowledge. That year, 1994, I created my first walking tours, founded Walking The Spirit Tours and with it pioneered Black Paris tourism.
Twenty years on, my mission hasn't changed: honoring the expatriate contribution and to opens doors for students, individuals travelers, and lively groups from all backgrounds to experience a connection full of discovery and pride and to actively experience what I love about France and what it offers best.
I have carefully selected guides who also love sharing their own connection and insights into the city, through their Afro and French roots.
France remains the home in my heart; I'd like to make it yours. My guides, trusted partners and I want to welcome you, help plan your exceptional trip, and connect in a way that makes you, too, feel at home, chez vous.